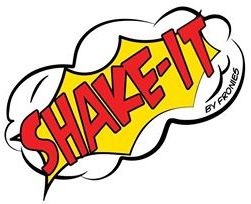 Prague, February 2019 – Michal Tesař and David Průdek through their company NEWTON Business Development, a.s. together with Jindřich Ullrich from ppm factum group invested in dynamically developing project of nutritive balanced SHAKE-IT drinks. The goals of the investment are mainly to expand on foreign markets and to accelerate the development  of new products.
Company Fronies s.r.o. has been manufacturing cereal drinks under the brand SHAKE-IT for almost two years. SHAKE-IT is a drink that simply saturates stomach from hunger. It is a meal in the form of drink, or a snack that you can drink easily. Its ingredients are purely natural, having positive effect on your body. Their combination creates nutritive balanced mix. There are no added aromas, colourants and preservatives. For sure, you can screen each particular ingredient item in your mind, not a chemical formula. SHAKE-IT is gluten-free, vegan and has high level of proteins, fibre and has also very low glycaemic index. A special protein variant has been developed not only for sportsmen.
All SHAKE-IT drinks represent healthy alternative to fast food meals. They are convenient as a rich breakfast, a snack or a fast lunch, if you are in hurry. The drinks have iconic packaging design, which is inspired by pop-artist Roy Lichtenstein. You can easily just pour milk or water into the SHAKE-IT cup with all the cereals and other ingredients in line with your taste. And then just SHAKE-IT and Enjoy!
SHAKE-IT has already gained plenty of satisfied consumers, both from the broad public and professional sportsmen. The drinks are currently available in more than 200 healthy products shops, e-shops and sport places.
New investors got 25% stake. The majority is held by the founders and the main faces of the project – Honza and Pavel Fronček brothers.
More information about SHAKE-IT:
https://www.instagram.com/shake.it.cool/
https://www.facebook.com/SHAKE.IT.COOL/